Many homeowners today are looking to update their homes by painting over stained wood surfaces. Whether it's oak-colored trim, baseboards, or stair rails from the 80s and 90s, painting stained wood can be a labor-intensive process.
One crucial step in achieving a long-lasting and professional-looking finish is selecting the right primer. In this blog post, we will explore the best primers for painting stained wood based on extensive research and testing.
The Standard Process
When it comes to covering stained wood surfaces, the standard process involves sanding, priming, and applying multiple coats of paint. The goal is to create a strong bond between the paint and the stained surface, ensuring that the paint won't peel off.
To achieve this bond, a primer is essential. However, when dealing with glossy surfaces like lacquered or polyurethane-finished baseboards, proper surface preparation is crucial to ensure the primer and paint adhere correctly.
Research and Testing
To determine the best primer for painting stained wood, we conducted extensive research and reached out to leading paint manufacturers such as Sherwin Williams, Benjamin Moore, PPG, and Behr/Home Depot.
The consensus was that newer water-based primers are highly effective for this type of project. While oil-based or solvent-based primers were previously recommended, they are often more challenging to work with and less environmentally friendly.
Testing Primers
In our testing, we used oak-stained cabinet doors as they represent the most common type of wood that homeowners want to paint. We wanted to understand how different primers performed in terms of bonding and stain blocking.
To Sand or Not to Sand
One aspect we explored was the level of sanding required before priming. We tested three scenarios: no sanding, light scuff sanding, and full sanding.
Afterward, we applied different primers to each door and conducted scratch tests after 24 hours and 38 days of curing. We understand that paint products can transform over time, and their properties can change, forming a stronger bond as they cure.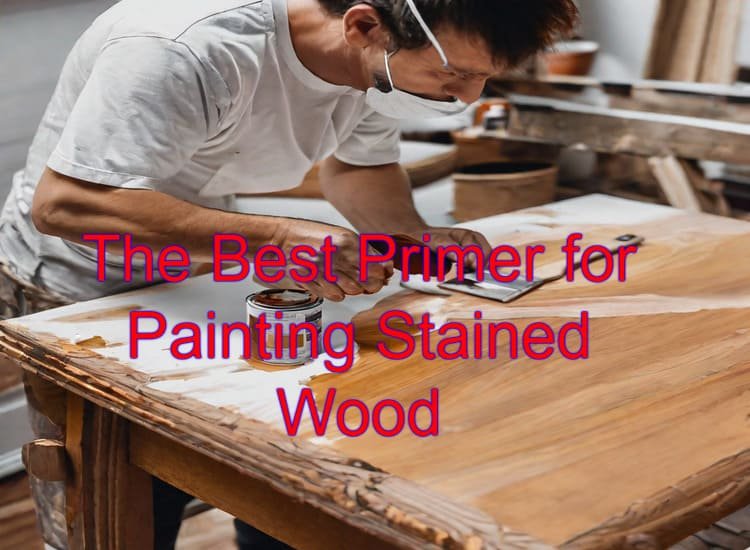 The Best Primer for Painting Stained Wood
The Best Primer for Painting Stained Wood are:
Sherwin Williams Extreme Bond Primer
Behr Bonding Primer
Stix Primer from Benjamin Moore
Top Performing Primers
After experimenting with numerous primers, we identified the top performers for painting stained wood. The best primers for bonding and overall performance were:
Sherwin Williams Extreme Bond Primer
This high-end primer showed minimal difference in bonding between sanded and non-sanded areas. However, it did not perform as well as a stain-blocking primer, as the oak's yellow color showed through.
Behr Bonding Primer
This primer exhibited excellent bonding performance and stain blocking. It resisted scraping even on the non-sanded side, although there were some scuff marks.
Stix Primer from Benjamin Moore
Stix primer demonstrated strong bonding, even though there was slight wear on the non-sanded side. It performed exceptionally well overall.
Considerations for Lower-Priced Primers
While high-end primers outperformed their lower-priced counterparts in our tests, we also examined a popular lower-priced option, Kilz 2 All Purpose Primer.
This primer was less expensive but tended to go on thinner compared to the others. We were able to scrape off the primer on the non-sanded side, which was not the case with the higher-end primers.
Conclusion
Based on our research and testing, the best primers for painting stained wood are Sherwin Williams Extreme Bond Primer, Behr Bonding Primer, and Stix Primer from Benjamin Moore. These primers excelled in bonding and overall performance, providing a strong foundation for a successful paint job.
Although sanding, priming, and painting remain the recommended process for painting stained wood, our experiments showed that these high-end primers can provide an alternative for homeowners looking to save on labor costs. However, it's important to note that sanding still plays a crucial role in achieving the best results.
Remember to consult with professional painters or experts for personalized advice based on your specific project requirements. With the right primer and proper preparation, you can transform your stained wood surfaces into a fresh and updated look.
---