Choosing the right paint brand is crucial when renovating your home. The color of your walls can greatly impact the overall look and feel of a room. Two popular paint brands that often come up in discussions are Behr and Benjamin Moore.
In this blog post, we will explore the Behr vs Benjamin Moore debate to help you make an informed decision about which brand is the best choice for your painting project.
Behr Overview
Behr Paint Company is a renowned supplier of paint and decorative finishes, catering to customers in the United States, Mexico, Canada, Chile, and China. Founded in 1947, Behr is committed to meeting the needs of both commercial and residential projects.
The brand has a strong presence, particularly through its retail partnership with Home Depot stores.
Key Features of Behr
Durability: Behr paints are known for their durability, ensuring a long-lasting finish.
Stain-repellent: The brand offers some of the most stain-repellent paints on the market.
Scuff-resistant: Behr paints are designed to resist scuffs, keeping your walls looking fresh for an extended period.
Quick drying: Behr paints dry quickly, minimizing downtime and allowing you to resume your daily activities promptly.
Mildew and mold resistance: Behr paints provide effective protection against mildew and mold growth, thanks to their antimicrobial properties.
Benjamin Moore Overview
Established in 1883 by Benjamin Moore himself, this paint company has a long history of producing high-quality paints for both commercial and residential use.
With an experienced team and a wide range of products, Benjamin Moore is a popular choice among homeowners and professionals alike.
Key Features of Benjamin Moore
Extensive color selection: Benjamin Moore offers over 3500 different colors, allowing for a wide range of options and finishes.
Allergy-free paints: The brand's paints are allergy-free, ensuring a safe and comfortable painting experience.
Smooth finish: Benjamin Moore paints provide a smooth and even finish, enhancing the overall aesthetic appeal of your walls.
Quick rain resistance: Benjamin Moore's exterior paints can withstand rain just two hours after application without any degradation.
Paint Quality & Durability
Both Behr and Benjamin Moore are known for their quality paints. When comparing the two brands, it is essential to consider factors such as paint quality and durability.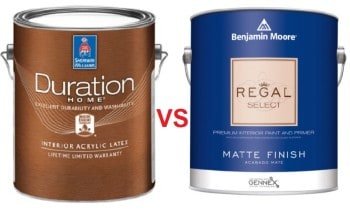 High-quality paint will provide better coverage, adhesion, and resistance to wear and tear. Additionally, factors like ease of application, drying time, and long-term performance should also be taken into account.
Choosing the Best Paint Brand for Your Project
Ultimately, the choice between Behr and Benjamin Moore depends on your specific needs and preferences. Consider factors such as the project requirements, the desired color palette, budget, and the level of durability you require.
It is also helpful to consult with professionals or seek recommendations from trusted sources to make an informed decision.
Conclusion
When it comes to selecting the best paint brand, both Behr and Benjamin Moore offer quality products with their unique features and benefits. By understanding the strengths of each brand and considering your project requirements, you can make an educated choice.
Whether you opt for Behr or Benjamin Moore, investing in a reputable paint brand will undoubtedly enhance the beauty and longevity of your home's interior and exterior surfaces.
---